Infectious diseases and viruses, such as COVID-19, can be transferred from one person to another by either coming in contact or touching contaminated surfaces. Washing and sanitization of hands at regular interval is a great defence against COVID-19.
One can control maintain hygiene in private place but being in public space brings many complex challenges for this simple task. Using sanitizers is convenient but they are of limited help when your hands are dirty or greasy.
The best and the most effective method is to wash your hands with soap and water for 20 seconds which renders absolute cleanliness. But hand washing facility is not always available in public places and visiting the restroom just to wash hands may not be convenient.
Merino presents PuriWash, a mobile foot operated hand wash station that can be placed in any premise serving as a hand wash kiosk eliminating the need to touch faucets and also visit restrooms or toilets to only wash hands.
Key Features –
Foot Operated water flow
Sensor operated touchless soap dispenser
Inbuilt freshwater and wastewater storage
Made of anti-bacterial compact
Completely mobile
Available in 5 shades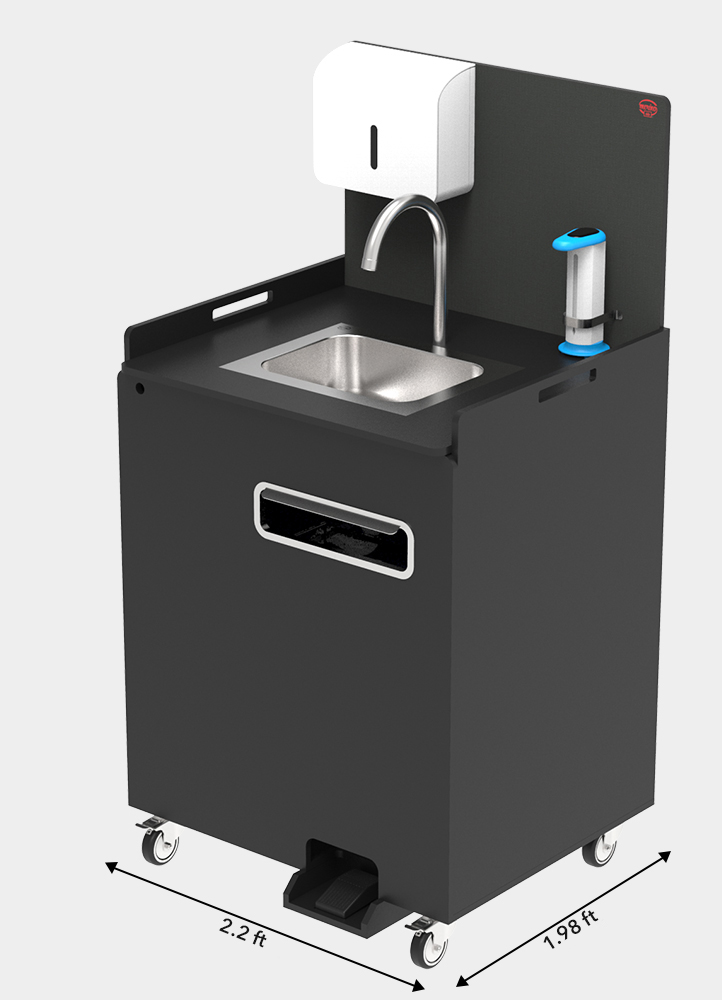 Foot Pedal
Pedal Operated Water Flow
Sensor Operated Soap Dispenser
Water Faucet with Atomizer
PuriWash comes in 4 variants:
Compact Portable Unit – With inbuilt storage
Compact Static Unit – Direct Supply and Drainage Connection, without storage
Laminate+Plywood Portable Unit – With inbuilt storage
Laminate+Plywood Static Unit – Direct Supply and Drainage Connection, without storage

 Puriwash 2.0 – Portable unit with inbuilt storage,

Made of HDHMR Pre Laminated board
Merino PuriWash is a great option for offices, classrooms, hospitals reception areas, chemist shops, foodservice, factories, airports, public transport facilities and other indoor locations. Our portable station helps to stop the spread of numerous illnesses by eliminating germs through basic hand washing hygiene.
A simple, ergonomic and practical design that is completely mobile and easy-to-plug in. It is self contained and no water supply or drainage hose is required. Just plug into a 220V supply and enjoy safe hand washing experience.  Some key features of Merino PuriWash are: –
Foot operated water flow
Sensor operated soap dispenser for extra safety
Fresh water & waste water tanks of 20 litres capacity each
Stainless steel sink & faucet
Waste bag holder to collect used tissues
Cabinet made out of anti-bacterial Merino HPL Compact
Extremely durable
Top of the line water pump from Crompton
2 spare cans provided with the package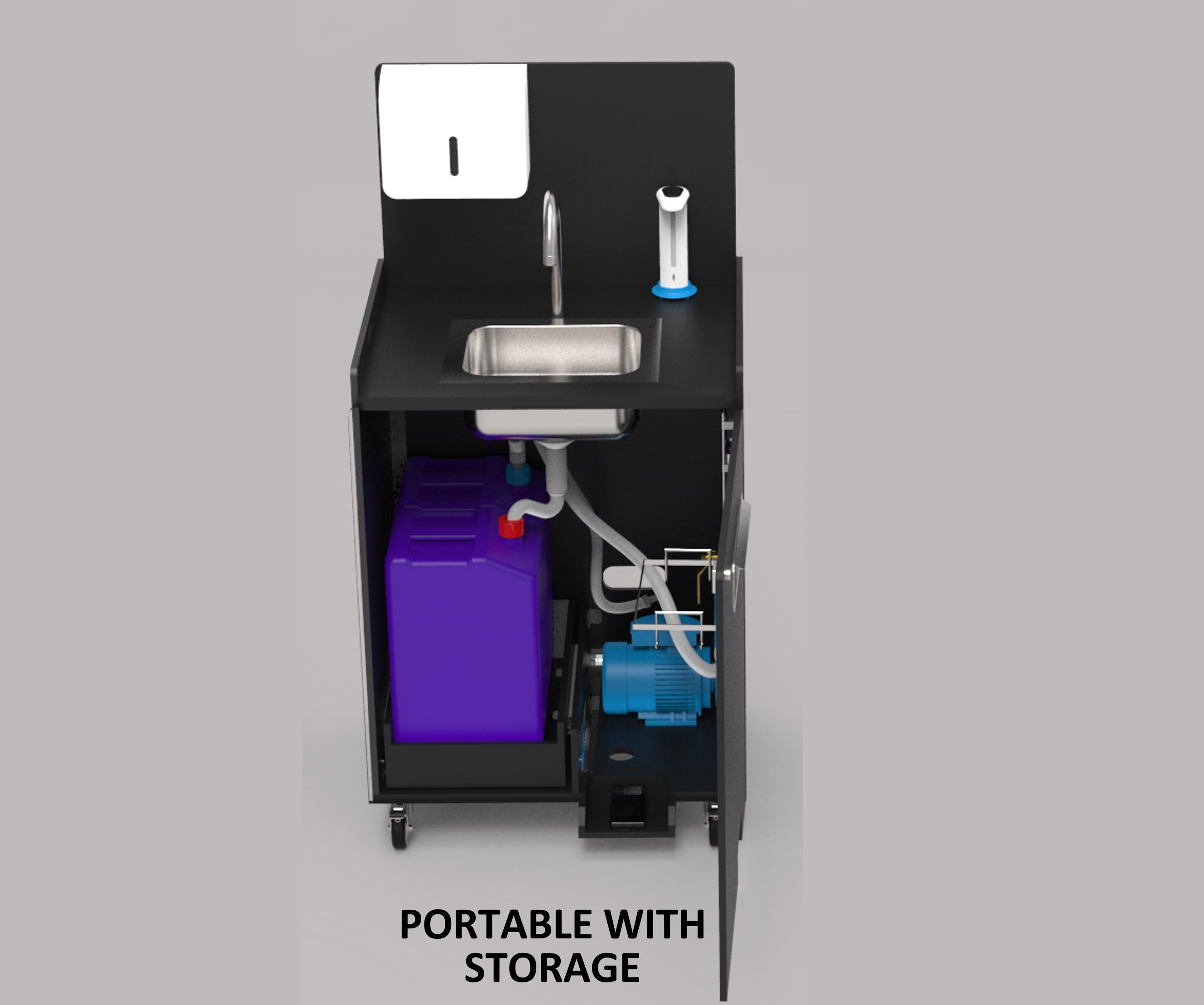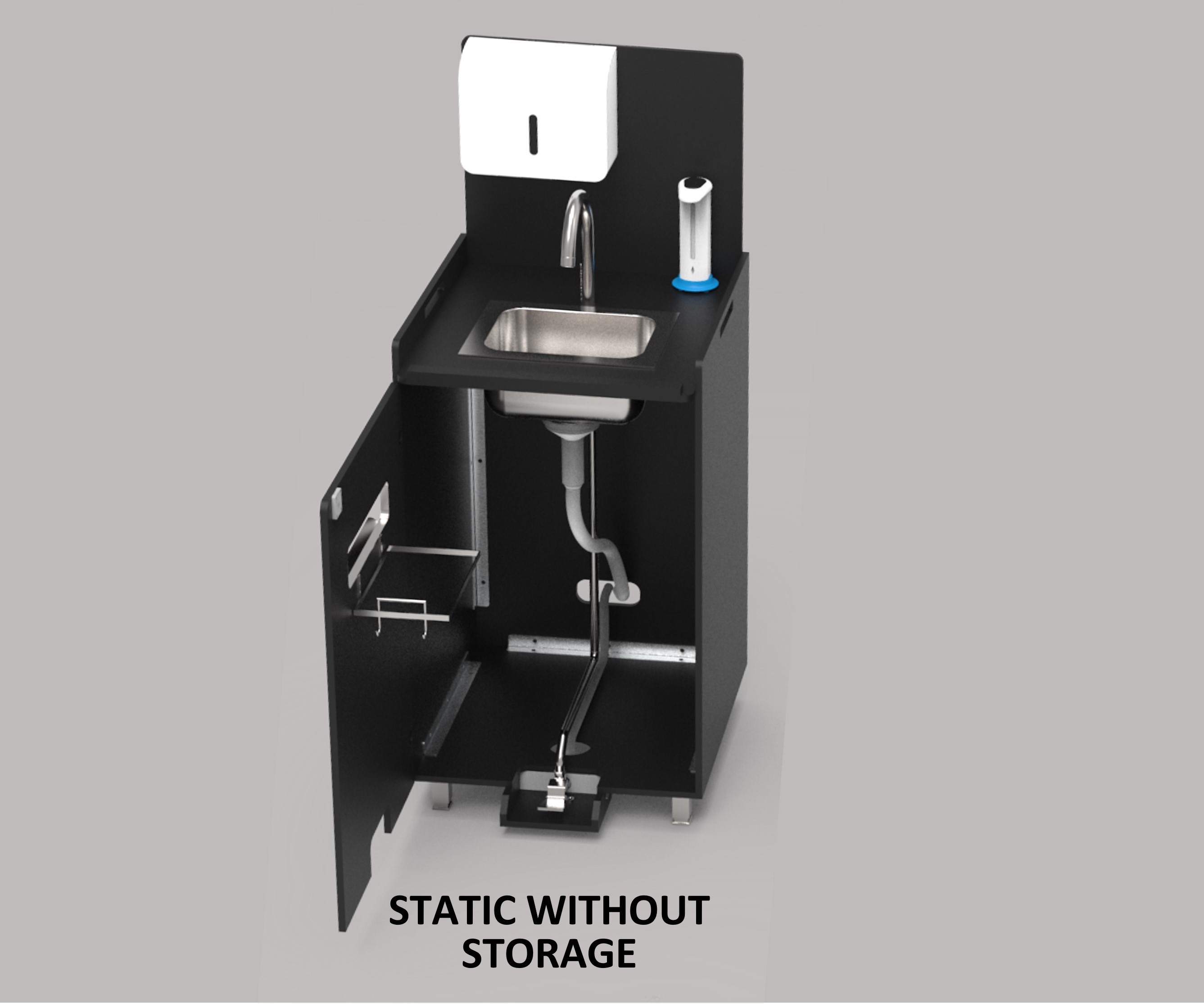 | | |
| --- | --- |
| Country of Origin | India |
| Application | Indoors |
| Dimensions | 680 x 605 x 1287 |
| Fresh Water Capacity | 20 Litres |
| Grey Water Capacity | 20 Litres |
| Cabinet Material | Anti Bacterial Compact (HPL) Board 12mm |
| Countertop Material | HPL Board/ Solid Surface |
| Sink Size | 400 W x 400 L x 175 D | 850 mm (Height from Ground) |
| Sink Material | Stainless Steel (SS 304) |
| Models | 4 (Compact Portable, Compact Static, Laminate Mobile, Laminate Static) |
| | |
| --- | --- |
| Faucet | Chrome Plated Brass Faucet with Atomiser |
| Operations | 220 V AC Power |
| Soap Dispenser | Yes (350 ml, Sensor Based) |
| Sanitizer | No (User can place it on the counter) |
| Waste Bin Capacity | 15-20 Litres |
| Wheels Capacity | 125kgs (with front brakes) |
| Water Pump Capacity | 0.5 HP Crompton |
| Additional Tanks | Yes (2X20 Litres) |
| Plumbing Connections | PVC (Mistake Proof Connectors-Color Coded) |
| Power Cord | 2 Meters |
| Weight | 76 kgs(Dry Weight) |