Infectious diseases and viruses, such as COVID-19, can be transferred from one person to another by either coming in contact or touching contaminated surfaces. 
Public restrooms have always been a huge repository of various kinds of bacteria
People are highly apprehensive to touch things inside a public restroom
But with the advent of COVID-19, this apprehension has graduated to a need to not touch anything in a public place let alone in a restroom
Hence, we need immediate but cost effective solutions to eliminate hand touch as much as possible to prevent the spread of COVID 19
Merino presents Foot Latch, a restroom cubicle accessory that allows the user to lock and unlock the door of the cubicle using his/her foot.
Key Features –
Completely hands free
Integrated occupancy indicator
Highly Durable– Made of SS 304
High tolerance of slider for effortless operation
Suitable for any type of cubicle or door
Easy Installation – Can be installed within minutes without any formal training
User pushes the kick plate to enter the cubicle
The user places his/her shoe on the teeth made on female part of the latch and pushes the door to locking position
After the door reaches locking position, the user slides the latch mounted on the pilaster to lock the door. In this process the outside occupancy indicator turns red.
To unlock the door, the user slides back the slider from locking position to release the door. In this process the occupancy indicator turns white. The user now places his/her shoe on the teeth made on female part of the latch and pulls the door to open it.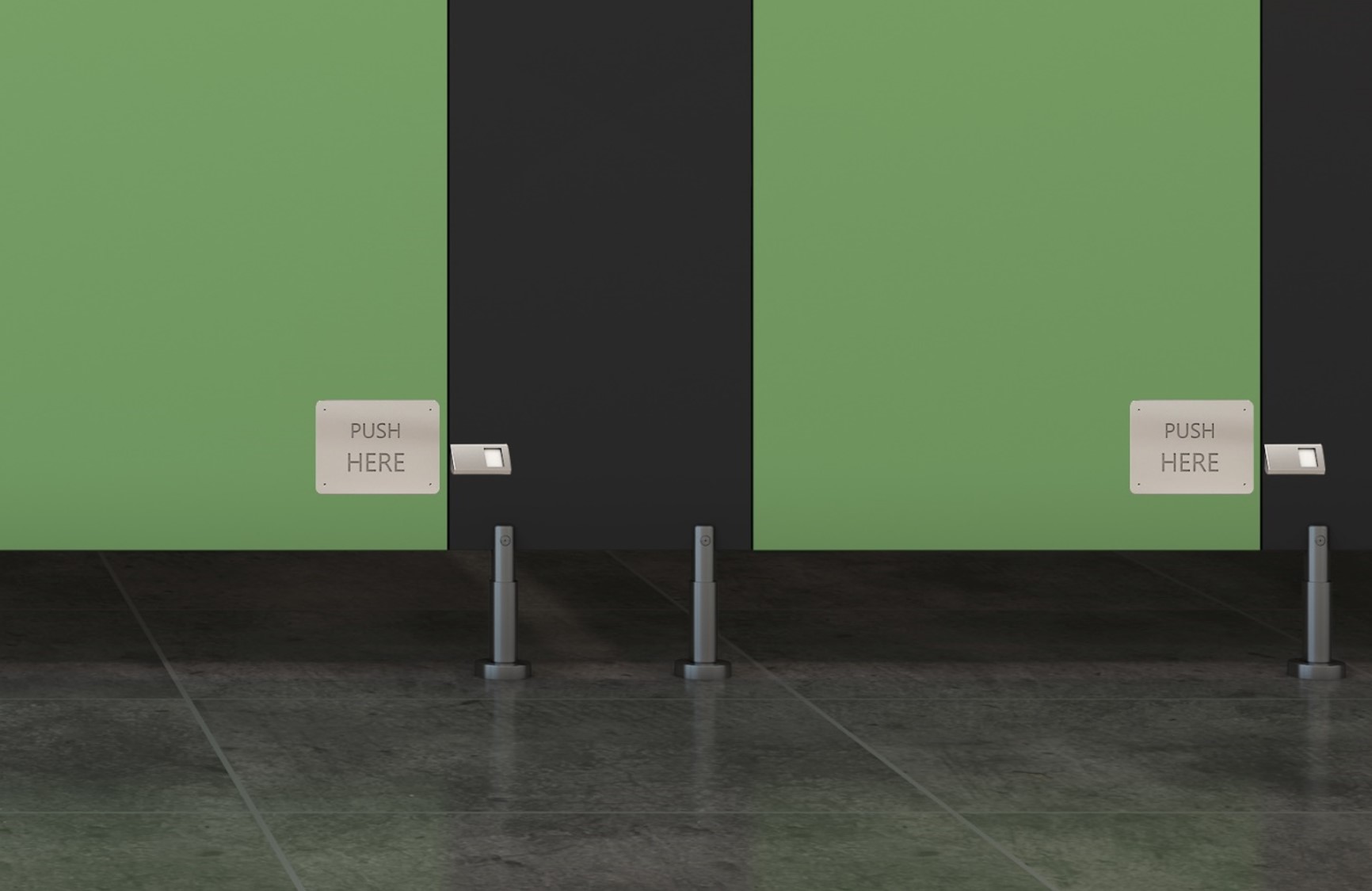 | | |
| --- | --- |
| Country of Origin | India |
| Application | Restroom Door, Internal Door |
| Dimensions | L 131 X W 118 X H 49 mm |
| No. of Components | 4 ( Foot Slider, Foot Pull, Push Plate and Occupancy Indicator Assembly) |
| Material | SS 304 |
| Occupancy Indicator | Yes (with Color Blind option) |
| Joinery Mechanism | M4 SS screws (Included in the package) |
| Weight | 350 gms (0.350 Kg) |
| Test Certificates | Salt Spray Test (1500 Hours) |
| | |
| --- | --- |
| Finish/es | Brushed Satin Finish (Also available in Lacquered and Powder coating) |
| Operations | Inward opening, Outward Opening Doors |
| Door Swings | Left and Right |
| Accessibility Feature | No |
| Project Type | New Installations , Retro Projects |
| Door Thickness | 12mm and 18mm |
| Door Material | HPL Compact, Plywood, Particle board, MDF, HDF, Solid Wood (Does not work with Glass or Metal Doors) |
| Keys Required | No |